Hello, Guest!
Member's Local Time
USA-EST
UK
South Australia


Hey all!
Does your BpoetryWriters Portfolio need some hits? Are you tired of posting to a dead audience, maybe wondering what's the dern use?
Does seem we're alive but barely kickin' around here. But the good news is, there are things you can do to generate views and comments for your precious work placed in this forum. Try one or all the suggestions below:


One old standby is placing a signature with a link in the private emails you send out.

Maybe something along the lines of:
I write poetry! You can read my work and even leave a comment if you'd like by going to
BpoetryWriters Forum.
To expedite folks arriving at YOUR doorstep the quickest, substitute the main forum URL with a direct link to your personal portfolio.


Go to Vista Print and have 250 FREE calling cards made up to give out.



Put a link to your portfolio in other forums you may belong to.



Share a link to your portfolio at Facebook.

Most of us are members in good standing at FB! In addition to sharing 'notes' on your wall,
why not share a link back to this forum
. I've been sharing a link to our prompt on FB for awhile. I've occasionally shared links to YOUR work as well. I'm very proud of you writers, and the whole point of this forum is to get exposure for your talented work.
Three Ways to Share at FB:
1. A direct link to your personal portfolio:
http://www.bpoetrywriters.net/c10-author-peter-fishburne
2. A direct link to a specific piece of work:
http://www.bpoetrywriters.net/t806-first-love
3. A direct link to BpoetryWriters Forum:
http://www.bpoetrywriters.net/forum
>>Of course you'll want to SAY something about the link you're sharing! Play yourself up.
"My most recent masterpiece about a lowly worm! Come one and all and experience the life and times of Ol' Wilbert."
Don't become discouraged. Take the next step in creatively sharing your poems and stories online.
Remember
, you can and should be your own best advertisement!
bev
Last edited by BC Williams on Sat Oct 29 2011, 07:13; edited 2 times in total

BC Williams

Founder





Posts

: 1562


Author Credits

: 2113

---

Accolades

: 7


Join date

: 2010-07-29


Location

: Lakeland, Florida



As for FB, it's pretty easy . . .
1.Write something in your Status:
2.Then add a link: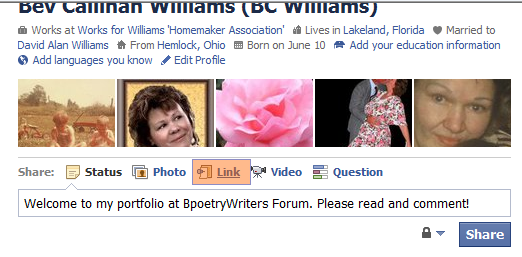 3. Attach it: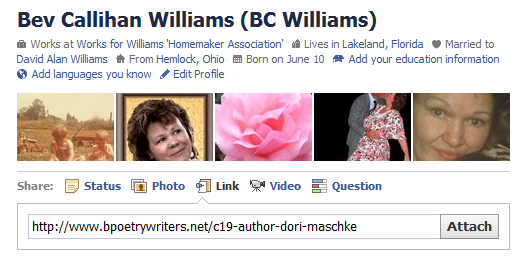 4. Share it: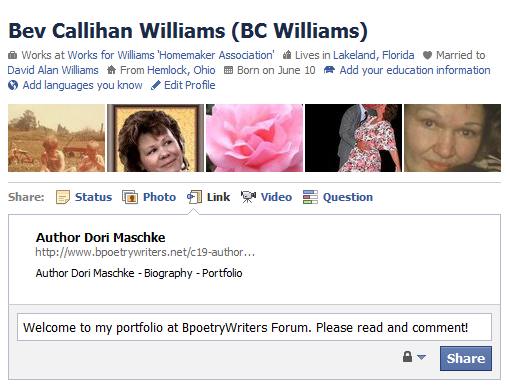 . . . And it looks like: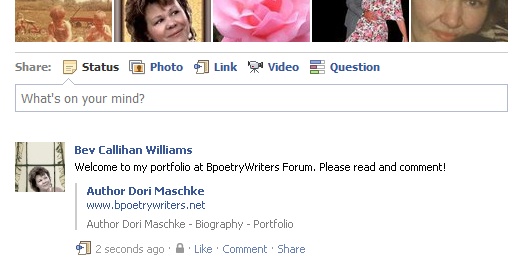 You can use a direct link to your portfolio, or a poem you'd like comments on - OR a direct like to the homepage! You can advertise a new prompt if you wish. It's great advertisement!
bev
Last edited by BC Williams on Sat Oct 29 2011, 07:18; edited 1 time in total

BC Williams

Founder





Posts

: 1562


Author Credits

: 2113

---

Accolades

: 7


Join date

: 2010-07-29


Location

: Lakeland, Florida




---
Permissions in this forum:
You
cannot
reply to topics in this forum