Hello, Guest!
Member's Local Time
USA-EST
UK
South Australia


To Liverpool
By: Ali Taha Alnobani
© 2011 by Ali Taha Alnobani
On Vernon street
Off Dale street
I sat near the sidewalk
At the edge
Like a broken bridge
People were passing
With their robot walking
Sea gulls felt my pain
Also did the rain
And my one day friend Mark
Who heard the voice of gulls in my heart
And my desire to start
His friendly eyes
Were shining
Like a rainy day sunrise
I loved the city
The buildings, the streets
The people when they say:
Are you okay
And the great mysterious river
Which says:
I'll stay forever
***
"I'm from London, I recognized you…?"
Said Mark
Me too
The old woman in the park
Saw wonder in my eyes
And my crutches' tries
To stand
But I was shy to tell her
That pretty belles have stolen my heart
***
"London is more beautiful than Liverpool"
Said Mark
If our world was broken
Who would take our love?
If the birds flew away
Who would fly like a dove?
Please tell me Mark
If I understood life at the end
If I became a sea gull
And found my trend
But peace seems far away
Despite our great love
***
On Vernon street
Off Dale street
I remembered the man who thinks
That he owns the truth
He had a knife instead of tooth
He tried to teach me to hate
But he was too late
My heart was upon the planet
And dwelt in the world of love
***
My one day friend Mark
Went away
Waving by hand
The dusk was drinking the day
A bird passed through the clouds
Like a ray
How many streets around the world
Have a sad man like me
Sits on the sidewalk
At the edge
Like a broken bridge
Thinks of truth and peace
And longing to have love in Liverpool
***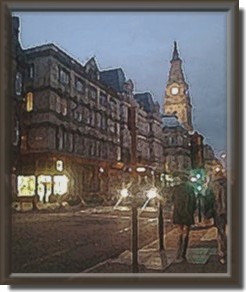 .
Last edited by alitnobani on Sat Jun 04 2011, 11:26; edited 1 time in total
a very in depth poem, well done!

Lucie

Author





Posts

: 979


Author Credits

: 1556

---

Accolades

: 95


Join date

: 2011-05-29



Thank you for deep reading

---
Permissions in this forum:
You
cannot
reply to topics in this forum