Hello, Guest!
Member's Local Time
USA-EST
UK
South Australia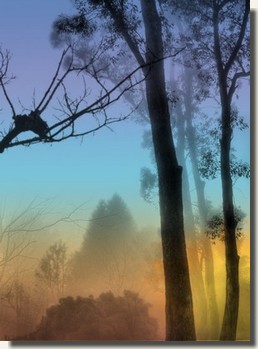 Into The Mist
It was early when she arose one morn.
The sun just rising over the horizon, new born.
A memory so slight in the back of her mind,
of someone calling her to come, if she were so inclined.
She slowly got out of her cozy warm bed,
toward the open window she felt led.
As she gazed out over the countryside,
a mist covered the land as if something to hide.
She felt drawn to walk through that mist;
to discover what lay beyond hard to resist.
Slowly she dressed as if spellbound,
While memory of her dreams seemed to resound.
Leaving her room, she climbed down the stairs,
drawn into the mist, what a strange state of affairs.
Opening the door, wondering if there was anything to fear;
slowly she stepped out where the mist had cleared.
Into the mist she walked, her steps slow and unsure,
the voice urging her onward whispered there is nothing to fear.
Onward she walked into a forest quite dense,
a great loving presence she began to sense.
Deeper she walked into the shadowy trees,
anxious to find the source of peace, what would she see.
The mist began to swirl and dance with a gentle breeze.
Rustling the sleeves and hem of her chemise.
The wind began to pick up and clearer she could see;
the wondrous colors of autumn leaves filled her with glee.
She came to a hill and began to climb.
Each step she took the mist declined.
The sun shone brighter here up on the hill.
The wonder of God's creation brought her a chill.
The beauty she witnessed was a gift to her,
Awed by His presence, she was unable to stir.
The voice that had called to her was our Lord up above.
To spend time alone with her was about His love.
So, if you are awakened by a gentle loving voice,
never take for granted that you are His choice.
To walk into the mist with God's loving hand in yours
is truly a gift from above and a broken soul He can cure.
© 3-31-12 by Robin Williams

Little Owl

Author





Posts

: 95


Author Credits

: 107

---

Accolades

: 29


Join date

: 2012-03-29


Location

: Lakeland, Florida



simply beautifully written. You walked me through that mist with ever emotion and as I came to the end I felt a cold sensation pour over me..
Well done, and thankyou so much for sharing your poetry.

Lucie

Author





Posts

: 979


Author Credits

: 1556

---

Accolades

: 95


Join date

: 2011-05-29



Sweet Little Owl . . . your second effort is maybe more beautiful than the first! I love the picture your conjured and the feeling that creeps over my skin while reading this poem. Keep it up . . . you have a future!

Love you, bev

_________________
Be obscure clearly. ~ E.B. White

BC Williams

Founder





Posts

: 1562


Author Credits

: 2113

---

Accolades

: 7


Join date

: 2010-07-29


Location

: Lakeland, Florida



Funny enough, I wasn't chilled but felt a warm and fuzzy feeling at the end.
Thankyou Little Owl, It was a pleasure to read....I look forward to more.xx

jinettyx

Author





Posts

: 788


Author Credits

: 981

---

Accolades

: 33


Join date

: 2011-09-20



Thank you all. I am but just a beginner and feel humbled by your praise. It gives me a warm fuzzy feeling to hear your feed back. Y'all are too kind.

Little Owl

Author





Posts

: 95


Author Credits

: 107

---

Accolades

: 29


Join date

: 2012-03-29


Location

: Lakeland, Florida



Yes now that was something one can really picture in one's mind. This is a very emotional Poem and I love it very much. Yiou have a lovely style of writting please keep up the good work and I am looking forward to more of your work.
Just one thing I have noticed it would easy on the reader if you broke up the text into paragraphs otherwise I love your thoughts and emotions. RichieO

This poem reminds me of incident during World War One on the Turkish peninsula at Gallipoli when a Battalion of the King's Own Sandringhams disappeared into a cloud of mist.
The Mystery…
Many years later, in April 1965, at the 50th anniversary of the Gallipoli landings, a former New Zealand sapper called Frederick Reichardt issued an extraordinary testimony.

Supported by three other veterans, Reichardt claimed to have witnessed the supernatural disappearance of the 5th Norfolks in August 1915.

According to Reichardt, on the afternoon in question he and his comrades had watched a formation of 'six or eight' loaf-shaped clouds hovering over the area where the Norfolks were pressing home their attack.

Into one of these low lying clouds marched the advancing battalion. An hour or so later, the cloud 'very unobtrusively' rose and joined the other clouds overhead and sailed off, leaving no trace of the soldiers behind them.

Unfortunately he got the wrong date, time and battalion.....


Very interesting. Is there a book I could look up and read the story? Thank you for your advice. I am glad you enjoy my poems.

Little Owl

Author





Posts

: 95


Author Credits

: 107

---

Accolades

: 29


Join date

: 2012-03-29


Location

: Lakeland, Florida



yes there are several accounts of the mystery, Google "The Vanished Battalion" which is also a book and "All the Kings Men" made into a film for TV.
Enjoy the research.....RichieO
PS.....I just love that Owl I don't need a picture of you if this Owl as gotta be as cute as you......
its getting better every day
EXCELLENT poem, kept me on the edge of my seat, just wondering who was calling her.
I think I was meant to read this today, as my best friend who's like a sister to me, texted me this Easter Morning that her mom past away.
I told her that "at least it was on Easter, that she past away" it's like when Jesus raised out of that tombe he took her with him.
Thank-you for the joy and comfort of this poem.

Dori




Posts

: 526


Author Credits

: 625

---

Accolades

: 4


Join date

: 2010-11-22


Age

: 59



I'm sorry to hear about your and your friend's loss. I am glad the poem brought you some comfort. I guess this goes to show that you never know how a poem is going to touch someone's life. Thank you for such kind words, little bit/cuz.

Little Owl

Author





Posts

: 95


Author Credits

: 107

---

Accolades

: 29


Join date

: 2012-03-29


Location

: Lakeland, Florida




---
Permissions in this forum:
You
cannot
reply to topics in this forum