Hello, Guest!
Member's Local Time
USA-EST
UK
South Australia


This is a new poem and painting for my third book. This new book will deal with all aspects of cancer. This one is my definition of what I think cancer does with you as it plays on your mind. This will be the heading for the book and the painting will be the cover.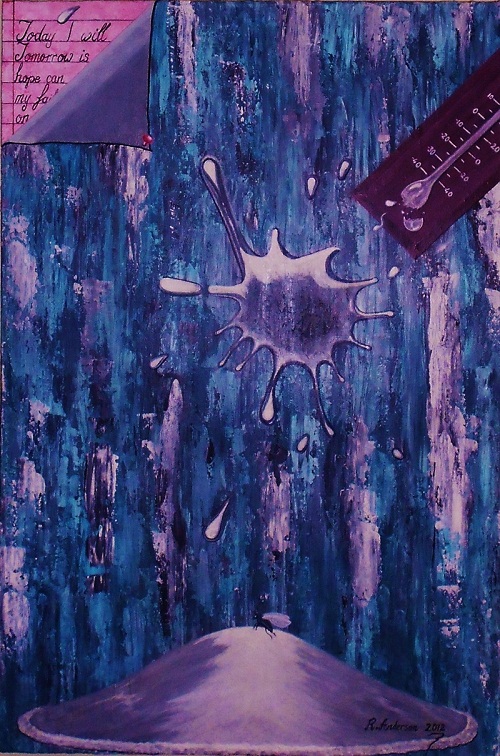 Painting by Robert Anderson (c) Robert anderson2012
I Am Me And You Are Mine
(A Story Of Cancer)
If you had me then you would know
Not at first, but let me grow
I will keep you guessing with the flow
And when minds are strained and in they go
It's always the same scenario
Head to head and toe to toe
Cut in here and not too slow
Now it's time for me to show…..
Myself to you
But lets not misconstrue
I'm manifesting, through and through
Their brains come nowhere from study
Where minds are full of hurdy giddy
When liver or lungs look spotty or muddy
Until the air brings on the blood
And I am like a tidal flood
I've just awoken from my bed
To the warm, slippery slopes of red
Now I am free, as you've been bled
To race delightfully inside your head
Through your body and in your stead
NOW WELCOME TO MY WORLD OF DREAD
Then they see me in all digress
I laugh and caress at their distress
While they twine together to keep this mess
To keep their status in medical chess
Doctors sew from what they reap
From their patients and those who weep
That pay the bills that pay their keep
To bring a cure would cut them deep
And I would get to sleep?
Their answer is to numb the pain
To make us docile in your brain
This dosage whatever is all the same
No matter what the size of frame
They have surrendered to my domain
Nothing but guess on what's to blame
In empty heads that bark the same
Has made me stronger in my strain
Has left you weaker, lost and lame
I am trying to help you here
As I play upon your fear
When mercury rises the flies appear
From a broken thermometers silvery tear
With visions of futures that can't adhere
Within The realms you've held so dear
This realization of what runs near
Starved and void of laughter or cheer
In those precious moments your mind is clear
Farewell for now from me to you
We will pass together, that's all, that's true
Just to go on in some other form
Bonded together from when we're born
Light hearted scorn in times that's torn
From evolutions overgrown
I am ultimate nature in a queue
Awaiting myself on what to do
As to give you an answer
, would give you a clue
To live among the chosen few
Find your answers in what they knew
Adieu's, adieu's, adieu's.
© Robert Anderson 2012
I found the painting and the poem very compelling.
There is indeed a world of pain most never see. Thank God.
Thank you for sharing your work. I cannot help but wonder, though, which came first the painting or the poem?

mikeschultz




Posts

: 503


Author Credits

: 942

---

Accolades

: 13


Join date

: 2011-11-11


Age

: 66


Location

: Crooksville, OH



Mike says it all and asks my question..
like paragraph 4.

Lucie

Author





Posts

: 979


Author Credits

: 1556

---

Accolades

: 95


Join date

: 2011-05-29



I actually did them both side by side. I started with the poem and then went on to start the painting, then back to the poem and then painting again and then finished the poem and added the finishing touches to the painting last night/ early morning. This is all just an early start to a new book concept and will probably be changed around or enhanced as the book evolves. I am just about to pull the easel back out after my coffee and get started on the second piece. I have it in my head but then you have to have a head in the first place, ha, ha! That is where the coffee comes in handy.

Thanks so much for the lovely reply. I needed to know if I was on the right track ..cheers! xxxx
I have lost several loved ones from this awful thing called cancer. How well your poem rings true.

Little Owl

Author





Posts

: 95


Author Credits

: 107

---

Accolades

: 29


Join date

: 2012-03-29


Location

: Lakeland, Florida




---
Permissions in this forum:
You
cannot
reply to topics in this forum