Hello, Guest!
Member's Local Time
USA-EST
UK
South Australia


Last Train To Evercreech Junction

O today is sad a day so I am told
For this is a line about to close to
dissolve itself into the history of time.

For this is a railway line I used to know
it took me from Frome to Bournemouth West,
change at Radstock by all accounts.

The engine stands so proud and gleam,
but its body is all dirty with grime,
which makes it's not to shine.

In Bath Green Park station this
last train is ready to steam.
This station now in its final day
has lost all its glory for all to see.

A Castle, but not the engine,
but a Barbara and a Lord,
called Beeching bestowed
to close the line.

The final whistle is blown
to say its "The right away"
and flags wave to say goodbye.

A blast on the engine whistle
does answer the call.
Its time to leave this station,
the last goodbye.

Crowds of people flood the line
for they too wave a final goodbye.

This railway was not the best for time
but it runs over the Mendips with views
a plenty through the countryside.

For this is the "Slow and Dirty"
Or be it known has the
Somerset and Dorset line for this is
The Last train to Evercreech Junction.
© RichieO 2011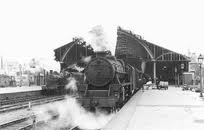 Ahh.."TOOT TOOT" salute!!
nice poem Rich.

Lucie

Author





Posts

: 979


Author Credits

: 1556

---

Accolades

: 95


Join date

: 2011-05-29



Aww...so sad for you Richie, great poem though!

jinettyx

Author





Posts

: 788


Author Credits

: 981

---

Accolades

: 33


Join date

: 2011-09-20



very well done I come from March in cambridgeshire it used to have the biggest martialling yards in europe and now it is factories and a high security prison.
When we were young our holidays spent trying to out fox the transport police to get into the steam train sheds and get the numbers many happy days
Thanks you Guys and Gals not much left to show where it used to run. But on the West Somerset Railway at Washford is the Signal cabin that used to be at Midford, the first station out of Bath Green Park. It's also the home of the Somerset and Dorset Railway Society HQ.

Fred, never got to March in those days but did get to a load of other Depots, especially the one at Stratford. We would just walk in and look around and no one challenged us.......!

---
Permissions in this forum:
You
cannot
reply to topics in this forum